Bypass Videos
Culligan products are produced with world-class quality, backed by solid warranties, and serviced by the best trained technicians in the industry. Before you call your local Culligan Water expert, here are some useful videos to help you bypass your softener when needed.
Bypass Directions
Every Culligan water softener that we install has a bypass valve. This valve allows the water to "bypass" the softener should you have a problem. Bypassing your Culligan softener can create a temporary fix until a service technician can repair the problem. Examples of issues are:
Low water pressure
Leaking softener
Softener is stuck running
There are 2 different types of residential bypass valves
Look at the images provided to see which type of bypass valve your Culligan softener is equipped with. Once you have identified the correct bypass valve follow the instructions on putting your softener on bypass.
Push Bypass Valve
Locate the Red Button on the back of the control head
Push the Red Button all of the way in, until the other side (blue colored button) pops out
Sometimes they are a little stiff so you may need to lightly tap the Red Button with a hammer
Call 712-252-4479 to schedule a time for a service technician to come repair the problem.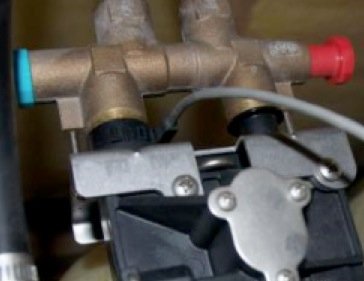 Turn Bypass Valve
Locate the Blue Knob on the back of the control head
Turn the Blue Knob so that it screws into the unit
Be sure to turn the Blue Knob all of the way until it stops turning. Do NOT try to force it once it stops turning
If the knob is hard to turn, place the shaft of a screwdriver into the slots on the face of the valve
Call 712-252-4479 to schedule a time for a service technician to come repair the problem